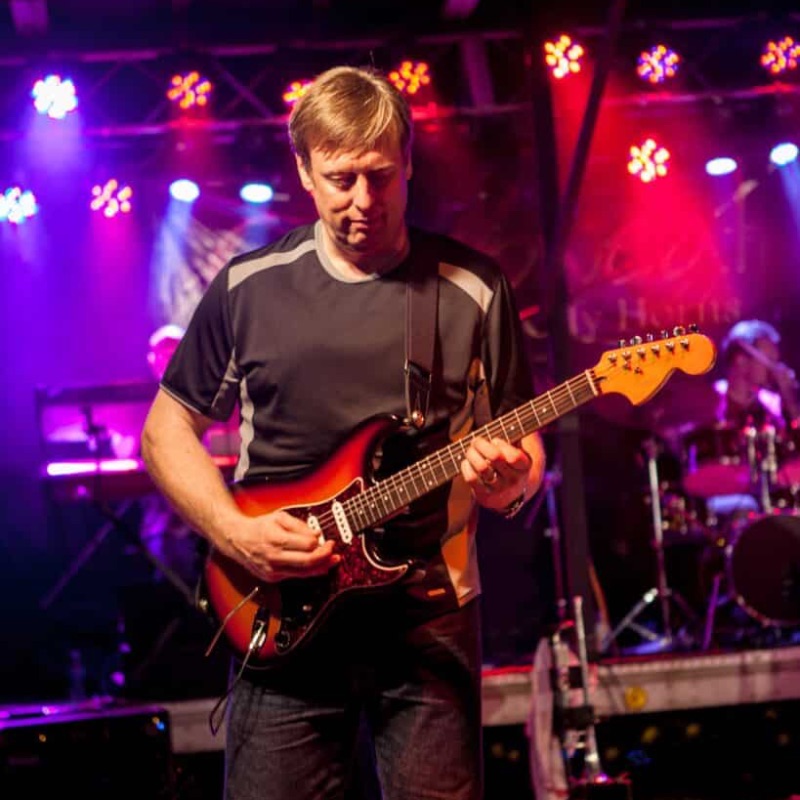 Guitar, Electric Bass, Ukulele
Education: Private study with Jack Grassel, Robben Ford, Joe Pass, and Richard Davis. B.M. Education, UW-Whitewater. M.A. in Arts, Entertainment & Media Management, Columbia College Chicago with Follett Full Tuition Graduate Fellowship.
About:As a guitarist, composer, and educator Jay Craggs has performed for audiences across North America. He has shared the stage, recorded with, or opened for many jazz, rock, and entertainment notables including Wynton Marsalis, Chick Corea, Buddy Rich, Yellowjackets, Paul Pesco, Kansas, Bobby Shew, James Moody, Bob Mintzer, Frank Mantooth, Phil Collen, Rare Silk, Chris Vadalla, Ritchie Cole, Steve Houghton, Dennis DiBlasio, Steve Wiest, Ernie Adams, Rich Little, Tommy Holland, and many others.
As an educator, Jay has taught Guitar and numerous Audio, Music, and Communications classes at UW-Whitewater, and has been teaching guitar privately for more than 25 years. Jay has also developed curriculum and taught at Columbia College Chicago and Madison Media Institute, and has presented many clinics, lectures, and performances at colleges and secondary schools throughout the U.S., including the Grove School of Music, Guitar Institute of Technology (G.I.T.), Musicians Institute in Los Angeles., Columbia College, Full Sail School of the Recording Arts, Madison Media Institute, University of Nebraska-Omaha, UW-Platteville, UW-Whitewater, Carroll College, North Central College, NACA Conferences, various high schools, and music industry trade shows such as NAMM. He has also several published guitar and technology-related magazine articles.
Jay is active as a performer, sound designer, and audio consultant in the music industry, and has worked with a variety of national acts including Adrian Belew, Rush tour, Prince tour, David Bowie tour, Living Colour, Lou Reed tour, Night Ranger, Frank Mantooth, the Tom-Tom Club, Al DiMeola, and others.
Album credits for performing on guitar or audio engineering include Sophisticated Lady by Frank Mantooth (SeaBreeze, 1995), Stain by Living Colour (Epic,1993), Better Way by the group Dyad (Stoic, 2003), Cloud Faktory, & Play On by the group Retrobeast (Earth Island Records, 2003, 2005), projects for Hal Leonard Publishing, and performer, producer, and engineering credits on many regional and local artist CD projects. Jay's first solo album, "Land Ho" (Stoic, 1994), featured pianist Frank Mantooth, bassist Larry Gray, trumpeter Jeff Tyzik, drummer Dave Mancini, and Jay's original music. Film Credits include soundtrack audio engineering contributions to the 2010 International Emmy Award winner "The World According to Ion B", an HBO Romania documentary.
Jay remains active as a consultant, composer/arranger, studio guitarist, recording engineer, and MIDI programmer. Clients have included Famous Footwear, Northwestern Mutual Life, HBO Romania, UW-Whitewater, Continental Trade Exchange, Midwest Directories, Hal Leonard Publishing, and regional retailers.
Need more information about an instrument or lessons? Our staff is here to help. Contact us today!
Address
The Music Cafe
105 Fox St
Mukwonago, WI 53149
Hours
Monday: 12-8
Tuesday: 12-8
Wednesday: 12-8
Thursday: 12-8
Friday: 12-6
Saturday: 9-3
*The Music Cafe is wheelchair accessible through the front door.