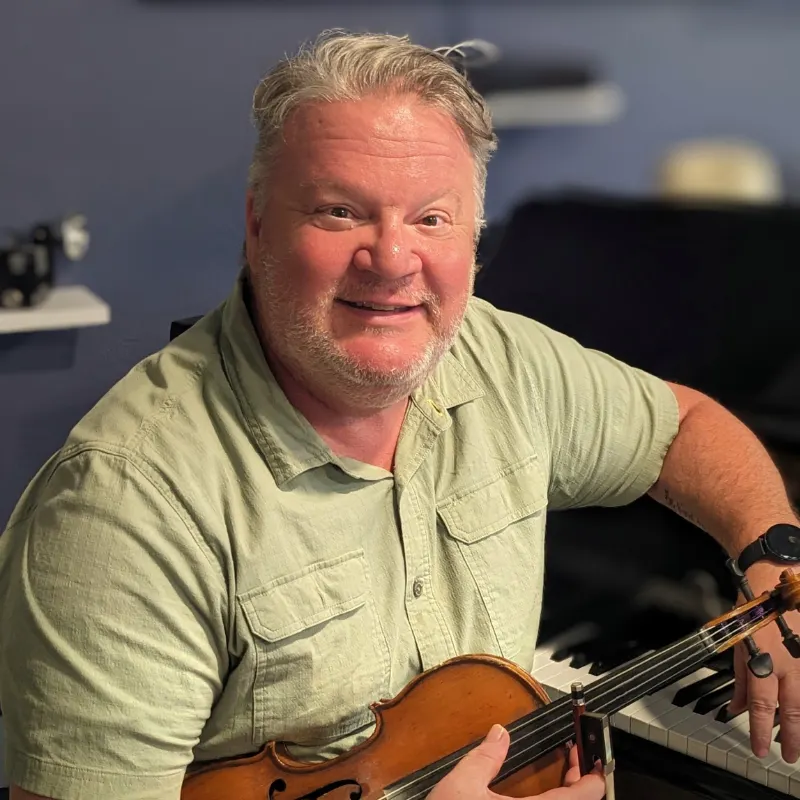 Piano
Teaching Days: Monday, Wednesday
About: Jeff Solie started violin when he was 4 years old and piano at age 8 and studied all the way through college.
Jeff spent his career in either the digital media world or the music industry. He was the retail manager at Cascio Music in New Berlin for 12 years, spent some time in downstate Illinois with a chain of piano and school-music stores…selling pianos to churches and colleges, and renting flutes and violins and trombones to elementary school students in the area. The last 23 years, he sold and managed digital media campaigns for businesses all over the U.S.
Now semi-retired, Jeff is a school bus driver in the mornings and a violin and piano teacher in the evenings. He has 2 grown sons and 2 grandchildren. His wife is an AP chemistry teacher in Germantown.
Jeff is super excited to be a part of the Music Cafe teaching staff. He loves helping kids grow through music and develop in the arts. It's such an important part of childhood, and kids learn so much more than the mechanics of how to play an instrument.
Need more information about an instrument or lessons? Our staff is here to help. Contact us today!
Address
The Music Cafe
105 Fox St
Mukwonago, WI 53149
Hours
Monday: 12-8
Tuesday: 12-8
Wednesday: 12-8
Thursday: 12-8
Friday: 12-6
Saturday: 9-3
*The Music Cafe is wheelchair accessible through the front door.